This being a motorcycle trip, the bike is obviously a very important part of the trip and I need to make sure that the bike is capable of what I ask of it. To ensure this, I've modified the bike to better suit long distance adventure riding and have done the routine maintenance to reduce the chances of any breakdowns.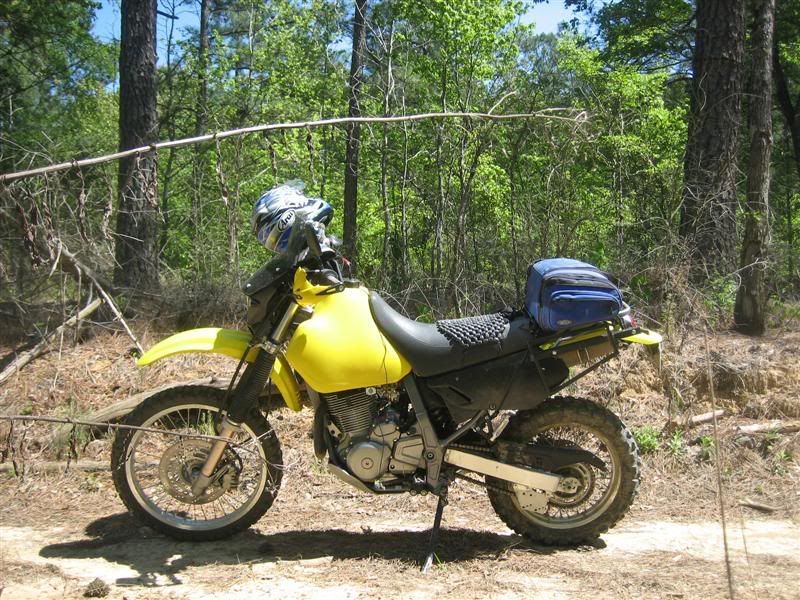 Her name is auDRey and she's a 2004 Suzuki DR650SE. She has about 14,000 miles on her and is running in excellent condition. The DR is known in the motorcycling community as being a very reliable cost-effective bike as its design is simple and robust. It hasn't fundamentally changed since 1996 because everything works really well.
The reason I chose this bike for long distance adventure traveling:
- Dual-Sport capability > meaning it can handle dirt and gravel roads as well as cruising on the highway.
- Tube Tires > easier to patch/repair a tube tire than to repair a tubeless tire like sport bikes.
- Spoked Rims > can absorb the shock of poor roads better than alloy rims.
- Expandable Gas Tank > this bike's design is such that the original gas tank (3.4 gallons) can be upgraded with a 4.9 gallon one (which I have) or a massive 7.9 gallon tank for crossing the Sahara desert.
- Air Cooled > the bike's engine is cooled by moving air and an oil cooler but with no water-cooling (radiator), meaning less parts to worry about failing.
- Carburetion > this bike has carburetors instead of fuel injection because it's easier to work on incase something goes wrong while traveling.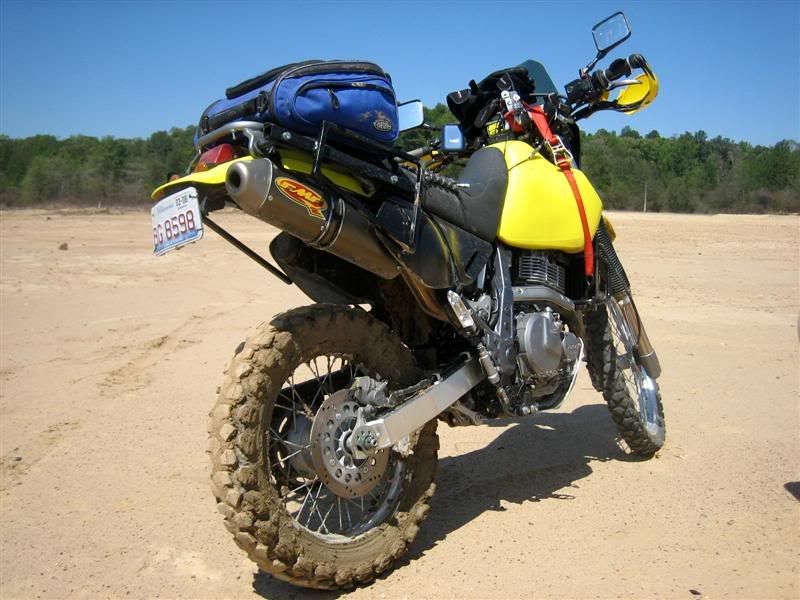 Modifications to the bike from stock (as it came from previous owner at 4,000 miles):
- IMS 4.9 gallon gas tank (to improve range)
- Corbin aftermarket seat (to improve comfort)
- FMF Q2 exhaust (to improve performance and save weight)
- Dyno Jet Kit for the carbs with airbox mod (to improve performance)
- Happy Trails Skid Plate (to protect the engine)
- ProTaper SE Handle Bar (to improve handling and durability)
- Rear Rack (to improve usability)
- Custom windshield (to improve comfort in terms of wind buffeting)
- Stiffer front and rear springs (to improve handling)
- Chain guide (to protect the chain)
- Acerbis Hand-guards (to protect the fingers and the levers)
- DRZ250 Tail light modification with LED blinkers (to improve the looks)
Modifications since then:
- Scottoiler Touring Kit (automatic chain oiler to increase chain and sprocket life)
- Russel Stainless Steel Braided Brake Lines (to improve braking performance)
- DualStar Heated Grips (to provide warmth to the fingers when it's cold)
- Centech AP-2 Fuse Box (to have better control of electronic add ons)
- Eastern Beaver Headlight Relay Kit (to increase power to headlights)
- Voltminder Battery Voltage Monitor (to monitor battery health)
- Upper Chain Roller removed (potential design flaw that could damage the frame)
- Secured Neutral Sending Switch (neutral gear indicator bolts that could come loose in the engine)
- Happy Trails Luggage Rack with Pannier set and Top Box (to secure and increase storage space)
Farkles (Functioning Sparkles: electronic add-ons)
GPS: Garmin 60Cx with Touratech Locking Mount
Radar Detector: Escort 9500i
12V Accessory plug for: running mini air compressor, heated vest and charging electronics
Maintenance done before the start of the trip:
- New Oil and Oil Filter with Shell Rotella-T 15w-40 Synthetic
- Valve Clearance Check
- New EBC Front and Rear Brake Pads
- New RK 525XSO Chain
- New Front (15) and Rear (42) Sprockets
- New Denso Iridium Spark Plugs
- New Hella Xenon-filled Halogen Headlight Bulb
- New Kenda K761 80/20 Front Tire (Rear Kenda K761 has 2,000 miles on it and I'm carrying a new rear tire to mount when I get up to Alaska)
Other Modifications:
- Fabricated custom license plate holder to mount Scottoiler
- Shortened Kick Stand and welded larger foot plate (to improve stability when parked)
- Fabricated custom bike crutch to aid in tire repair
- Fabricated Highway Pegs (to reduce strain on legs)
I've done all the above modifications and maintenance to improve my chances of how auDRey will behave while we're out on the road. Some items will improve her performance, while others will add to my comfort and increase my usability (ex: electronic add-ons). Not everything above is necessary before a motorcycle trip like this, but it gives me a better peace of mind, so that I can enjoy my journey more.
Next:
Trip Preparation / Packing List
Ride Report Index