Over the course of many motorcycle trips during the past three years, I've learned what to carry and what to leave behind, becoming an efficient packer. The two biggest factors in deciding what to take are weight and space. Weight is always an issue as a heavier bike is harder to handle, tougher to pick up if you drop it and reduces fuel mileage. Space is obviously limited on a motorcycle and items that pack small are preferable.
I've greatly increased my carrying volume with the Happy Trails aluminum full luggage set as I'll be taking a few more bulky items than when I went to Mexico. Along with clothes and tools in the side panniers, I'm also taking along minimal camping equipment, a Digital SLR camera and my laptop in the top box. The downside of the aluminum luggage set is the added weight of the metal boxes as opposed to cloth saddle bags. Each box weighs about 10 lbs. The main factor that metal boxes have going for them is the ability to safely secure your belongings with a lock. A cloth saddle bag can easily be stolen. While that isn't a major concern on the way to Alaska, there are other factors that go in the metal boxes direction, such as improved weather-proofed luggage, adding protection for the rider in an accident, acting as a camp stool, ability to rivet additional features, etc.
Clothes
In terms of clothes, I'll primarily be wearing my Motoport Kevlar Riding Suit with base layers. For the body to be comfortable, it's all about layering. If it gets colder, I'll throw on the windproof and waterproof liners of the riding suit and if it gets still colder, I have a performance thermal set, which I use for skiing. In extreme cold, I also have an electric heated vest. On the other extreme, for really hot temperatures, I have a cooling vest that works on the principle of evaporative cooling. Besides changing out the base layers, I only require a few other clothes for the evenings and days off from riding.
Motoport Riding Suit
Base Layer Tops (x3)
Base Layer Bottoms (synthetic x3, silk x1)
Bicycle Shorts (with padding)
Thermal Top
Thermal Bottom
Dry-Fit T-shirts (x2)
Regular T-shirts (x2)
Polo T-shirt (x1) for Embassy visit
Travel Pants (x1) (pants that zip-off into shorts)
Jeans (x1)
Shorts (x1)
Swim Trunks (for the hot springs)
Boxers (x3)
Socks: Smart Wool (x1), Motorcycling Padded (x1), Silk (x2), SealSkinz (x1)
Neck Gaiter: Short (x1), Schampa Long (x1)
Heated Vest
Kidney Belt (to aid lower back support)
Sandals
Sneakers
Cooling Vest
Rain Liners
Camp Towel (quick drying)
Motoport Air Mesh Kevlar Jacket
Motoport Air Mesh Kevlar Pants
Gear
Regarding riding gear, I finally retired my Spidi Penta Gloves, which have seen about 60,000 miles of use over three years. To replace them, I got the Teknic Speedstar Gloves, which have superior wrist protection along with the expected knuckle and palm protection. I also got new boots after running my Sidi Vertebra Tepor boots into the ground. I replaced them with Oxtar TCX Comp Boots, which are motocross boots as they provide superior ankle rotation protection. As one can tell, I'm highly paranoid about body safety. I've never had a broken bone and haven't been admitted to a hospital since I was a child and if I can help it with affordable protective gear that doesn't hinder my functionality, then I will. Also, getting hurt while on a motorcycle trip can turns things for the worse real quickly.
Teknic Speedstar Summer Glove
Rev'It Celsius Winter Gloves
Aerostich Rain Glove Covers
Silk Glove Liners (x2)
Champion Insulated Glove Liners (x1)
Oxtar TCX Comp Boots (with ankle protection)
Aerostich Rain Boot Covers
Arai RX-7 Corsair Helmet
Miscellaneous
Toiletries
Anti-Monkey Butt Powder (to reduce soreness of the posterior muscles)
Toilet Paper (small roll)
Sunblock
Eye Allergy Drops
Mosquito Repellent (100% DEET)
Mosquito Net with Boonie Hat
Nail Cutter
First Aid Kit
Eye Glasses
Spare Contacts
Eye Shades (for sleeping during the extended daylight hours)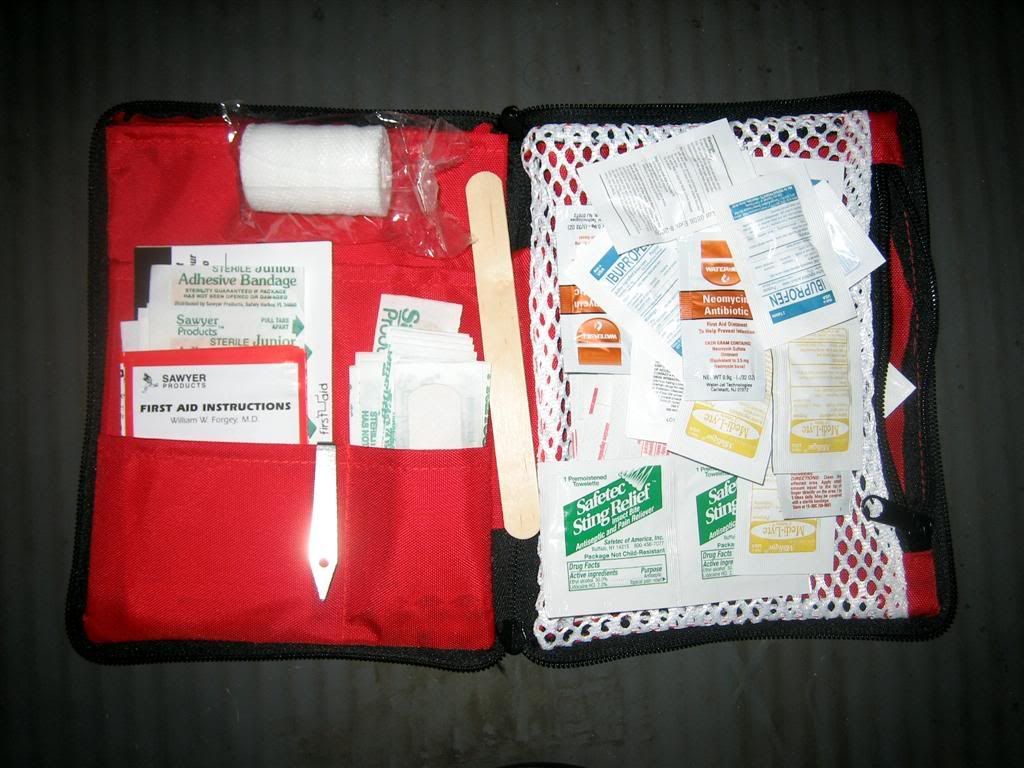 My First Aid Kit, which comes pretty loaded with lots of bandages, antiseptic ointments, splint, common pills and also instructions on what to do in different scenarios.
Books/Documents
Bell's Alaska Map Books
Novel
Sudoku Book, Pencil
Journal, Pen
Passport, Title, Insurance and copies
Camping
GearGuide 1-person Tent
GearGuide Light-weight Sleeping Bag
GearGuide Sleeping Pad
Coleman Exponent Xtreme Stove with Fuel
Food (various ready-to-eat meals)
Electronics
Laptop: HP DV1000 with Logitech Mouse
Digital Camera: Canon SD400 5 MP (3 x 2GB SD cards)
Digital SLR Camera: KonicaMinolta 5D (1x 8GB CF card, 1x 512 MB CF card)
Video Camera: Canon Elura 100 (6x DV Tapes)
Helmet Camera: Twenty20 (2x 9V batteries)
GPS: Garmin 60Cx (1x 2GB microSD card)
Radar Detector: Escort 9500i
iPod nano with Etymotic ER-6i earphones
Cellphone: Motorola Z6 and spare with extra batteries
Chargers for all devices
3-into-1 Wall Socket
iPod Speakers with AA batteries
LED Head Lamp
Bike Related
Even with all the precautions taken before the trip regarding the bike itself, things can still go wrong and one must be prepared for various situations. I have the tools required to fix a flat tire, change a tire, quick weld any pieces that break and other miscellaneous tools for upkeep and repair. I've also made provisions to carry extra fuel as along with the Dalton Highway, there might be some sections in Upper BC that require extended range, as gas stations might be closed.
Spare Tubes (Front and Rear)
Tire Irons (in Tool Kit)
C-clamp for Bead Breaking
Tire Plugger Kit
Bike Krtuch
Slime Air Compressor
Kolpin 1.5 Gal Fuel Canisters (x2)
Siphon Pump
Vice Grips (x2)
Socket Set
Epoxy Bond
JB Weld
Leatherman
Cruz Multi-purpose Tool
Clear Helmet Shield
Electrical Tape
Duct Tape on wrench
Digital Multimeter
Spare Rear Brake Pads
Spare Clutch Cable
Spare Shift Lever
Small Tool Kit to carry some wrenches and sockets along with spares for the carbs.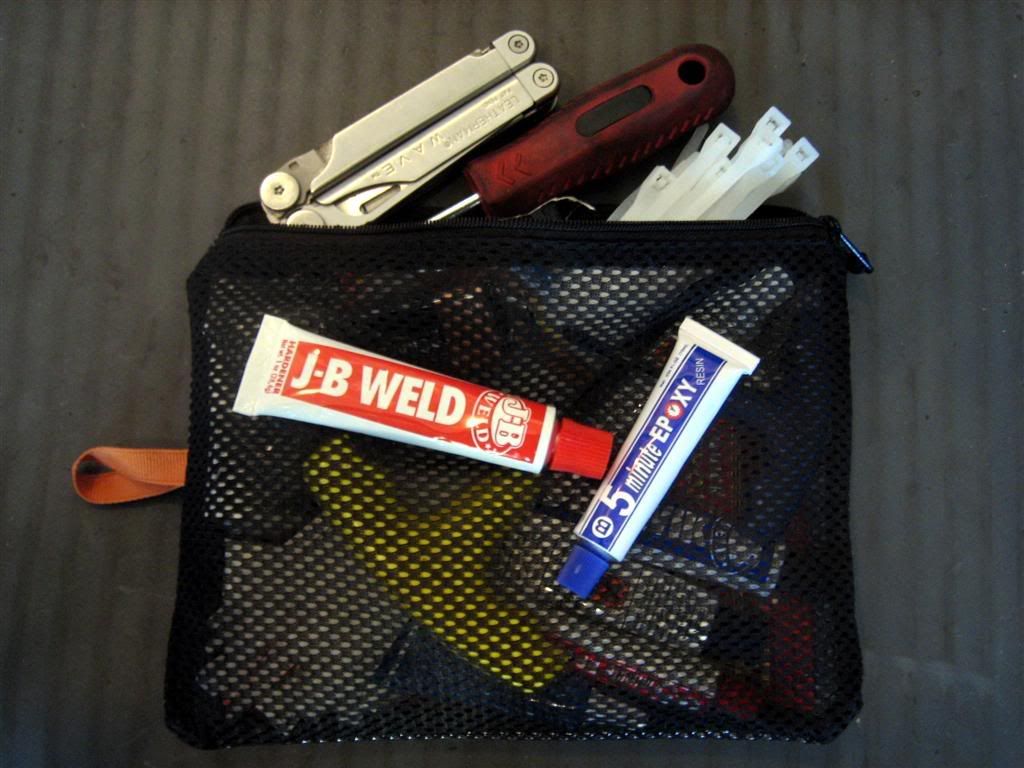 Tool Bag to carry JB Weld, some rubber silicone, zip-ties, small roll of duct tape and the Leatherman all purpose tool.
Slime Tire Repair Kit: mini air compressor and slime to fill in punctures. I'm also taking a tube patch kit.
Tire Irons stashed under the bike, needed to remove the tire from the rim to repair punctures.
Next:
Final Preparations
Ride Report Index