I'm currently in Denali and staying with an ADVer (DenaliDirt/Paul) and the weather is just fantastic. I just got back from a whitewater rafting trip and am having an awesome time. A lot has happened since Dawson City and here's a quick update.
After the D2D rally, Chris and I did the Top of the World Highway and the views are really nice. Close to the border, the road rides on a ridge for quite a ways and there's no flora, which gives it a unique look. From Fairbanks, we headed up the Dalton to Prudhoe Bay. The weather was great and we met up with two more riders heading the same way, Steve and Rick from Seattle on a R12GS and an F650. The Dalton is something else. We all really enjoyed it. The remoteness, riding some rough stuff and the scenery. It's really cool to see the trees slowly shrink in size the further north you get. We played around up in Atigun Pass and then decided to camp out on the tundra instead of spending the big bucks and staying in Prudhoe Bay. That was a great spot to camp, just past Atigun.
Then I started having issues. I went through a pothole and with the pressure lowered for the gravel road, my tire bottomed out and ripped my inner tube. I only had a front spare tube which is 21" that was stuffed into the 17" rear. I knew there'd be a fold over and possible pinching and the tube let go after 100 miles, about 70 miles short of Prudhoe Bay. I was all out of patches and tubes and the BMWs I was with were all running tubeless tires.
We befriended a traveler, Steve who's making a tip to tip journey (Prudhoe to Tierra del Fuego) in a Toyota Land Cruiser with no time line. He's got the jeep all set up for expedition travel. Steve gave me a ride into Prudhoe so that I could patch up my tire and I thought I could easily get a ride back down to my bike and be on my way. But the commercial trucks aren't allowed to carry hitchhikers due to liability issues and all the tourist vehicles were all full. Local workers were saying they usually dont see someone hitchhiking from Prudhoe. I gave up and spent the night and went back down with Steve the next morning. But the patched tube still didn't hold. After 10 miles, it let go again. This time I wrapped the whole tube in duct tape to reinforce it and put my old tube inside the tire to act as a liner for what it was worth, but that let go again after 7 miles.
While trying to figure out what to do, I was lectured by a passing BMW rider that I was taking way too much risk on my DR650 and should just sell my little Suzuki and buy a proper BMW and do it the right way. Thanks, but no thanks. My plan then was to ask a motorcycle dealer in Fairbanks (through Steve's satellite phone) to mail a proper sized tube to Prudhoe Bay and I would ride to Coldfoot with Steve and then hitch-hike back to Prudhoe, wait for the tube and then somehow get a ride back down to my bike. Just then another group of riders came by and Matt on a KLR had a spare tube, which he kindly gave me and they all helped getting the tire fixed. I has also picked up a nail along the way. Oh well, after all that I was finally set and it was 6:30 pm and Steve had to be in Fairbanks the next day for a scheduled service for his Land Cruiser and wanting to stay close to somebody in case something else happened to the bike, Steve and I did the Haul Road in one shot and rode through the night. Oh and my headlight bulb is also out. Still need to fix that, but there was more than enough light to ride without a headlight. I had my flashers going. We arrived in Fairbanks at 8 am.
Steve was definitely a godsend for me on the Haul Road. We had a good time riding into and out of Prudhoe and talked about all sorts of things. We seem to share similar views on many topics: food, outlook on life, physics, philosophy, etc. And since it was actually quite hot that day, it was nice to ride in an air-conditioned vehicle. He's got a blog going for his journey at taxidialogue.com.
While I really enjoyed the remoteness of the Dalton and never really feared for my life being broken down on one of the remotest roads in the world, I was glad to be back near civilization just in case something else went wrong with the bike. And surely, something else was wrong. While we were riding through the night on the Dalton, I had to refill my gas tank in the rain and I tried not to get water inside, but some did and it messed with my fuel delivery. It was a struggle to make it into Fairbanks and after washing the mud off the bike, she wouldn't start. But, lady luck riding pillion crossed my path again with a local biker who was at the car wash and went and got his trailer to take my bike to the local Suzuki dealer.
Wow, I am just having such good luck running into all the right people on this trip. But I guess it's also the kind of people that are up here in Alaska. Everyone is bit more rugged but more gentle and caring. I finally got my bike running in tip-top shape and made it down here to Denali National Park yesterday. I'm staying with Paul, who owns a few stores at the park entrance and he also hooked me up with a free rafting trip this morning, which was just great. I'm not going to be able to go inside the park since you need to wait a day at least to get on the tour bus, but I'm heading to Anchorage today and plan to take a boat tour of the glaciers and maybe see some whales tomorrow.
After Anchorage, I'm on my way south. I plan to ride the Alaska Highway all the way down and then go through Jasper National Park near Banff and then re-enter the US near Glacier and head towards Yellowstone National Park.
Pictures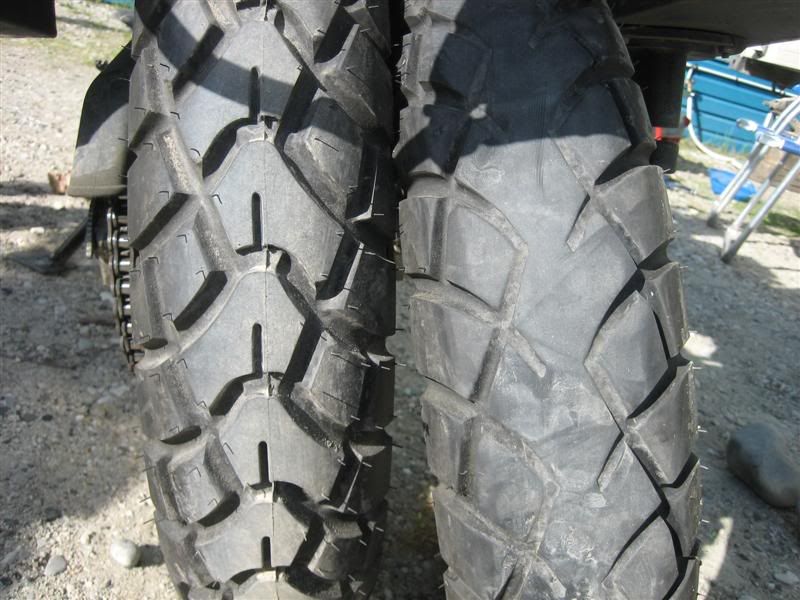 My new and old tire that I swapped in Dawson City. They're both Kenda K761's and the old one has about 7,000 miles on it. Fresh rubber for the gravel roads ahead.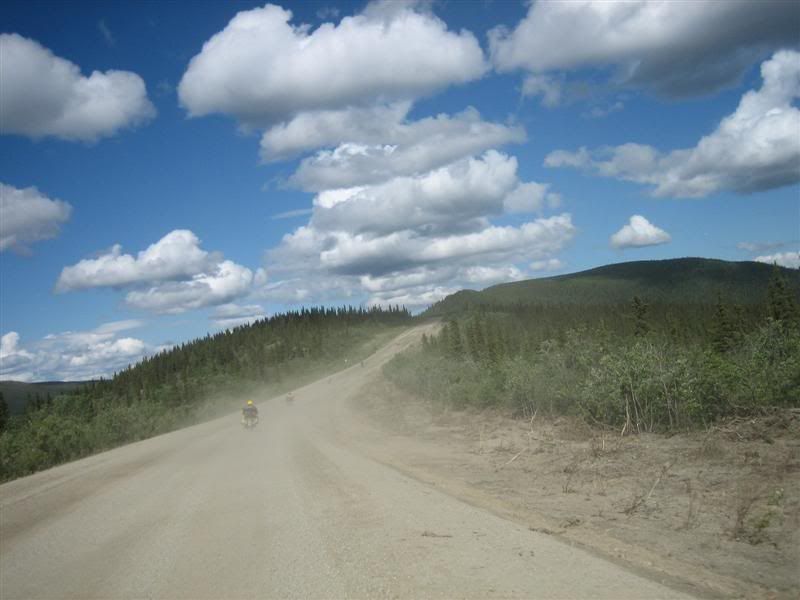 Top of the World Highway from Dawson City, Yukon across the border to Chicken, AK.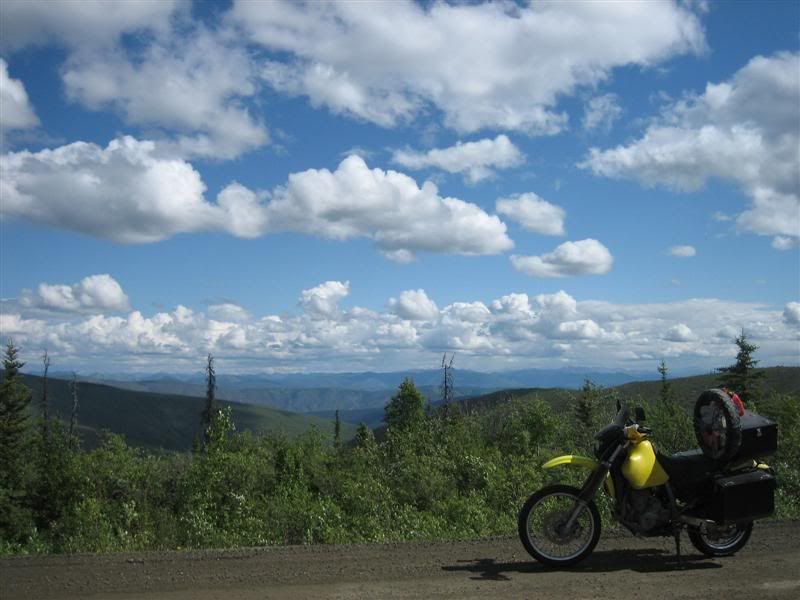 Top of the World Highway.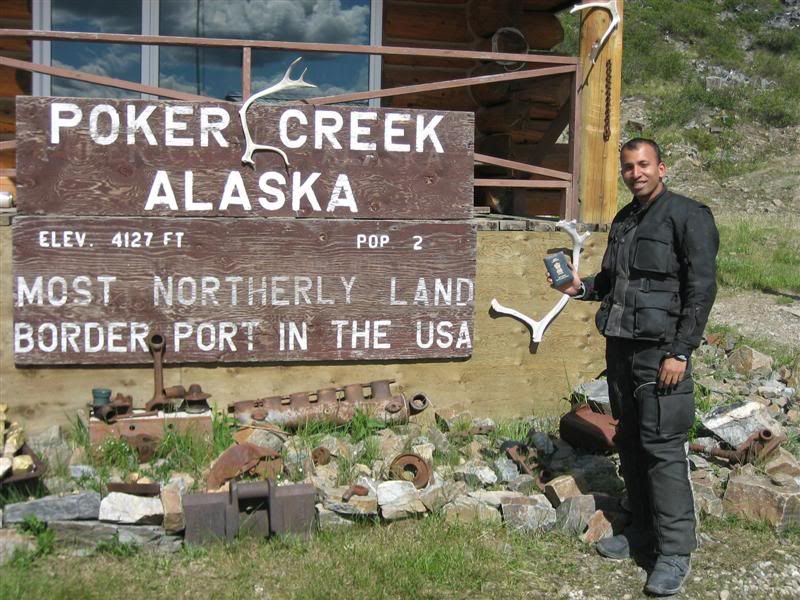 At the Poker Creek Border Crossing after getting stamped with my new visa. The border agent said he rarely has to do visa processing, so it took a while.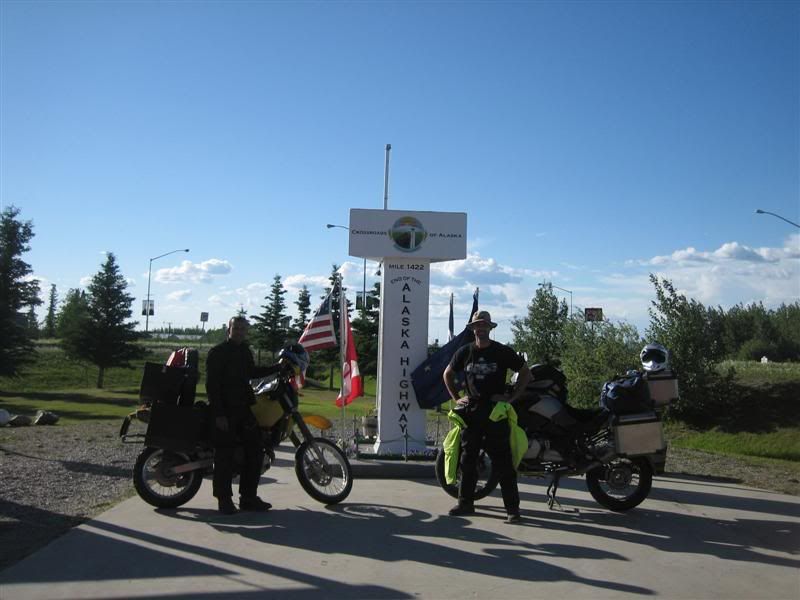 Chris and I at Delta Junction, Alaska where the official Alaska Highway ends. You can go south to Anchorage or north to Fairbanks and Prudhoe Bay.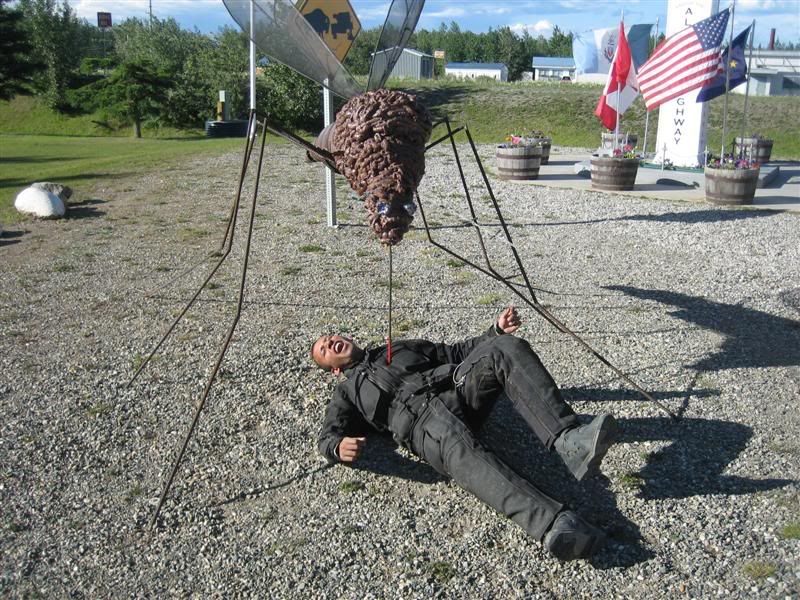 Phew, luckily my Kevlar riding suit protected me from this HUGE mosquito. I guess it's the touristy thing to do. But the mosquitoes up here are seriously huge and only 100% deet works on them.
Starting the Dalton Highway to Deadhorse/Prudhoe Bay. About 400 miles of gravel and pavement through some remote county.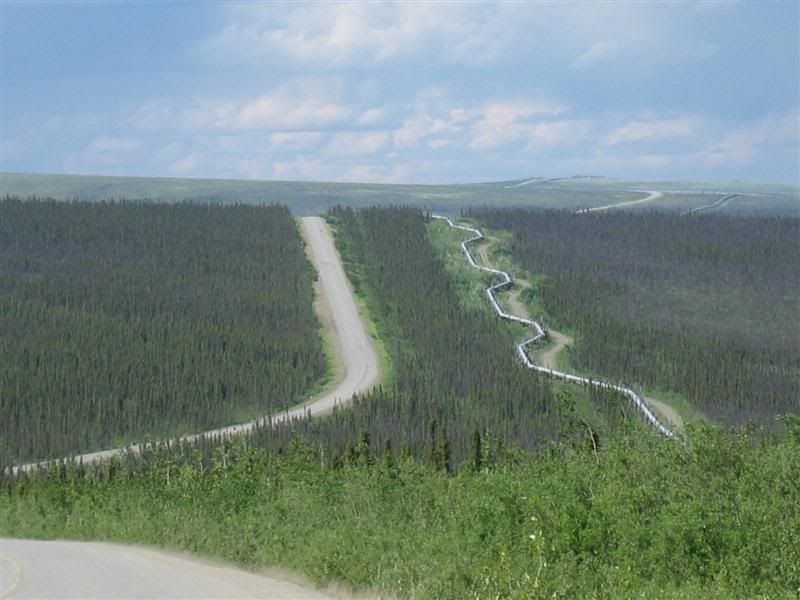 The Dalton Highway and the Alaska Pipeline. The road was built to service and build the pipeline, which runs next to the road the whole way.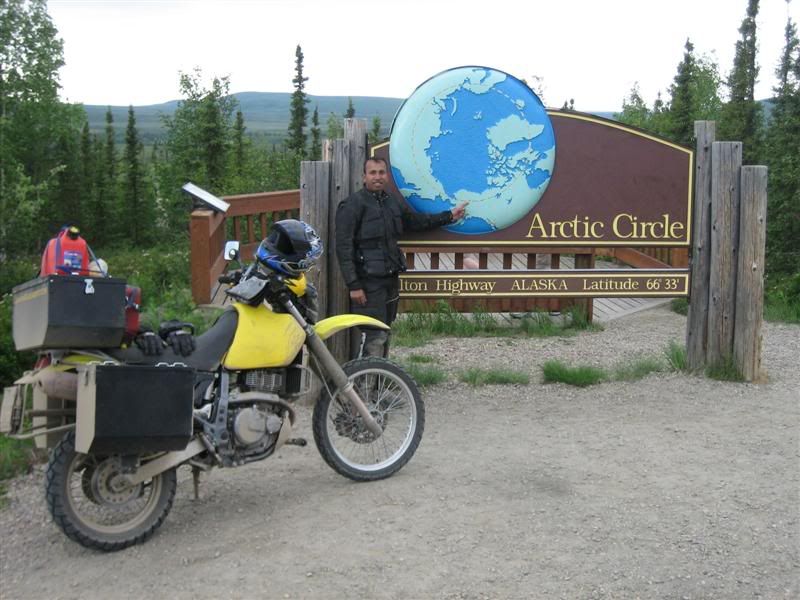 At the Arctic Circle. Many cars and RVs were going as far north as the Circle and then turning back.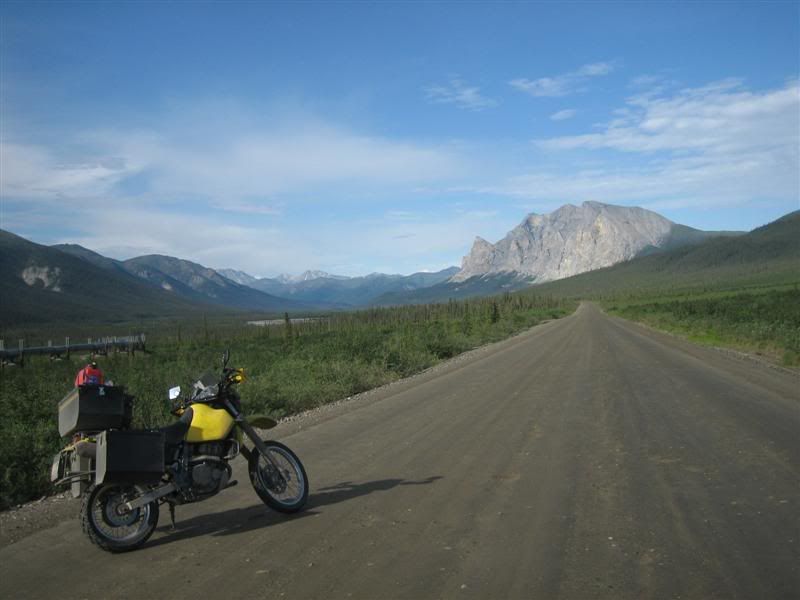 The awesome scenery on the Dalton Highway. And the road was actually much better than I expected. It's about 50% paved or smooth packed mud.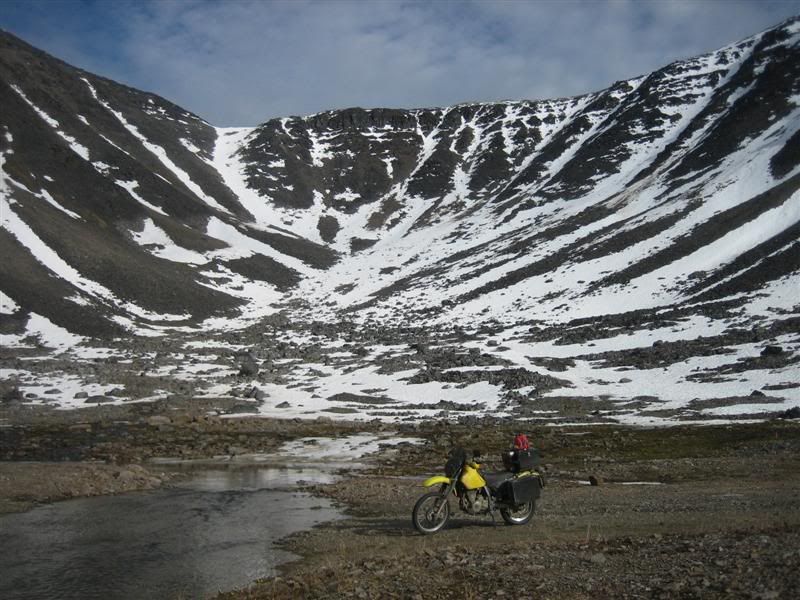 Atigun Pass in the Brooks Range, which is the northern end of the Rockies. This is how most rivers form, from snow melt.
Chris crossing the little stream. We played around in the water and the dirt for a bit, before finding out from a trucker that the public isn't allowed down here. Ooops. We didnt see any warning signs. No harm done.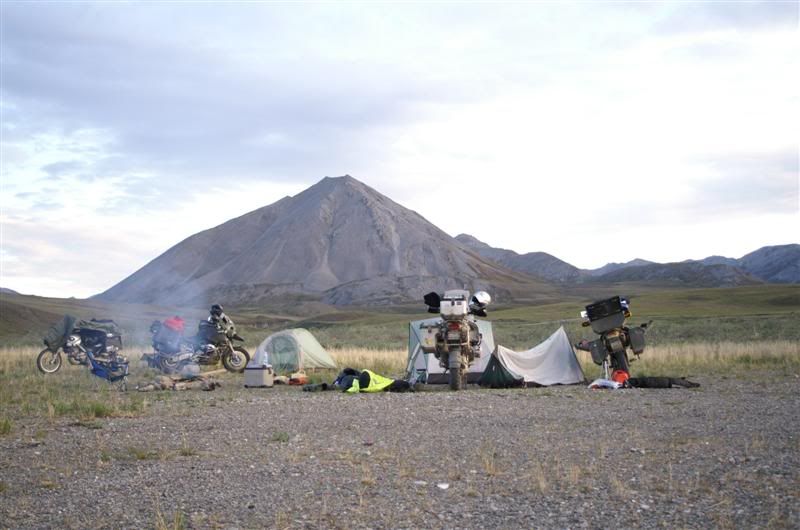 Camping at Galbraith, just north of Atigun Pass. We all liked to camp and chose this instead of spending $90 for a motel room in Prudhoe and besides the cost, the experience of staying out on the tundra was fantastic. We stayed up and saw the sun skirt the horizon and never set.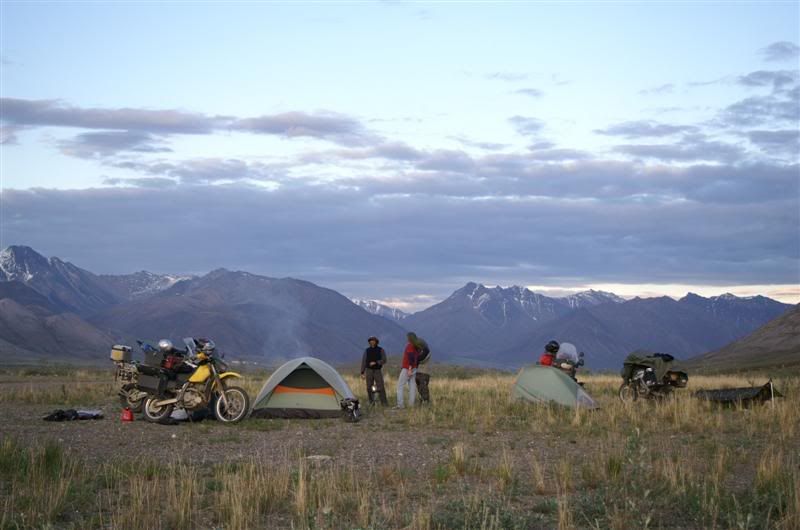 Just wow. This is about 170 miles south of Prudhoe Bay.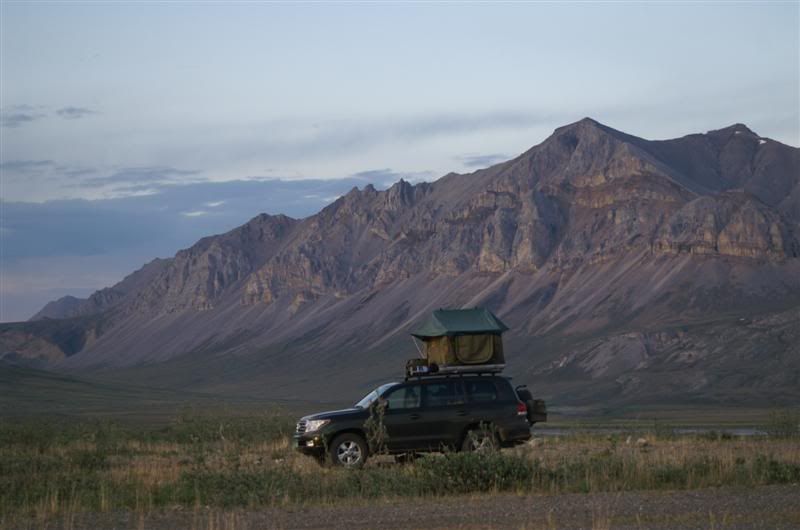 Steve's Land Cruiser that he has all set up for a tip to tip adventure (Prudhoe Bay to Tierra del Fuego in Argentina) that he's doing with no time line. The tent on top is way cool. This way there's no fear of bears or other critters. He even has a little fridge in there with a second car battery. Skid plates, lifted and extra petrol.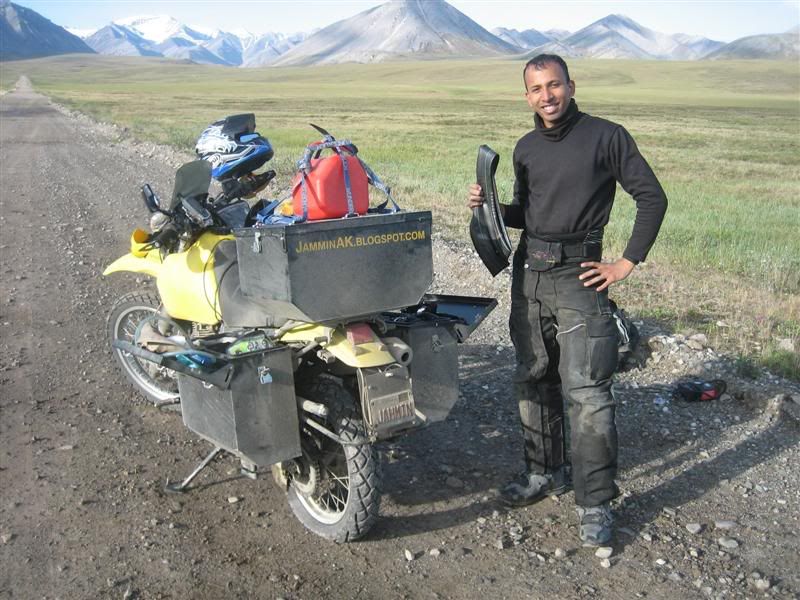 The start of my troubles with the rear tire. I went through a pot hole, which bottomed out and ripped the tube. I put in the spare front tube (21") that I had.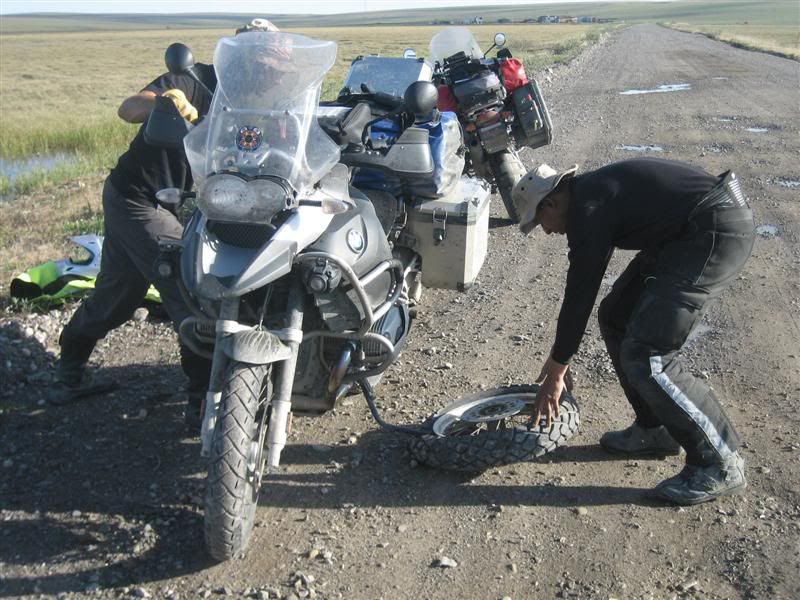 Breaking the bead with Chris' kickstand. I was getting some great experience in changing tires. I should be a pro in no time.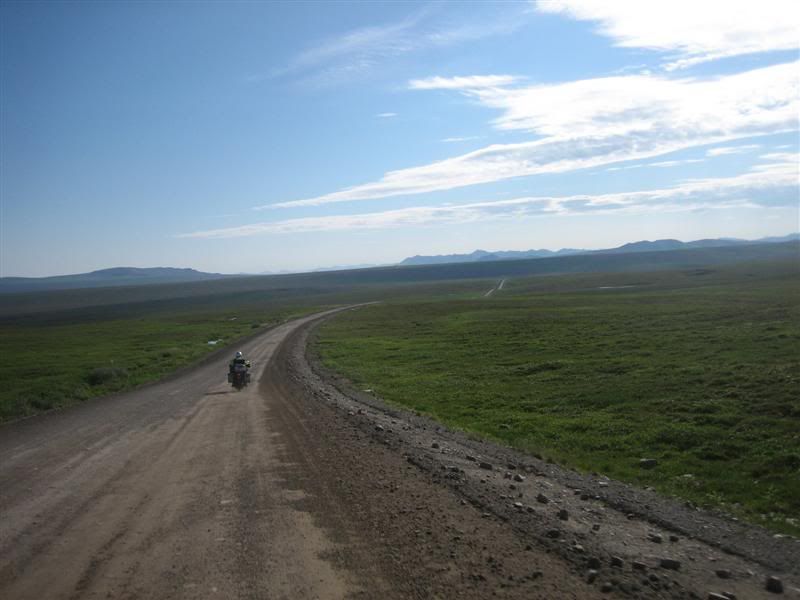 The tundra. There isn't enough sunlight or sunlight intensity for tall plants to grow. Very cool to finally see this. It goes on and on for miles to the horizon.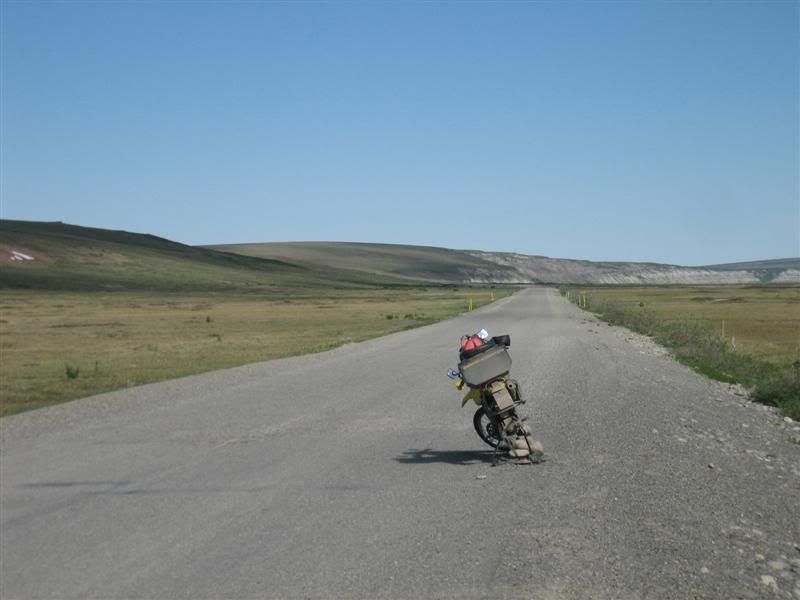 Yeah, as expected, the front tube didn't hold in the rear tire. With no more tubes or patches left, I decided to leave the bike and ride into Prudhoe Bay with Steve to get my tire fixed. I hid the side panniers in the bushes.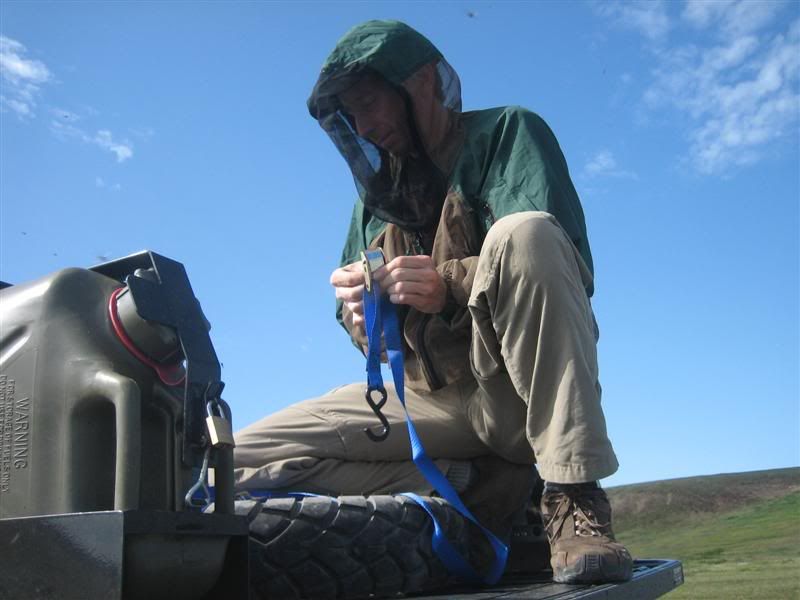 Steve strapping down the rear wheel on the roof of the Land Cruiser. He's got no space inside since it's packed with all kinds of gear for different activities. And his cool mosquito net/jacket was envied by all.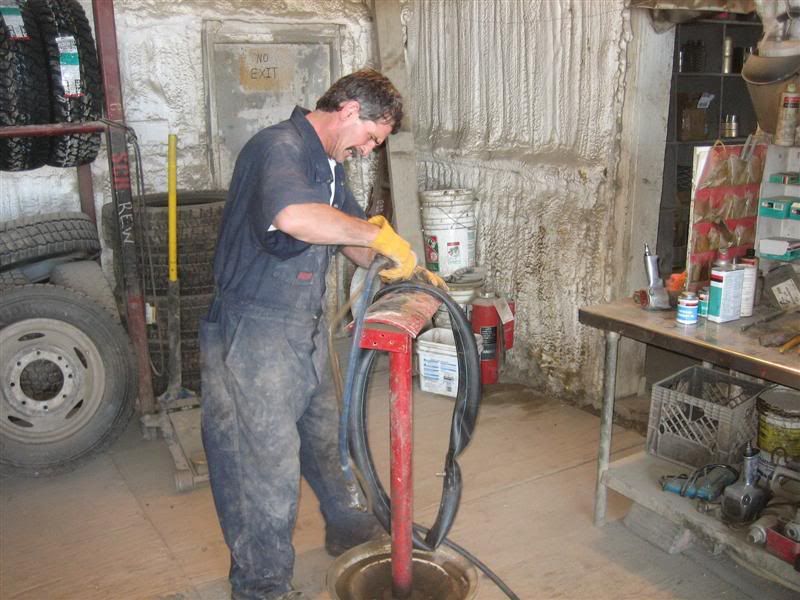 Getting the tube patched in Prudhoe Bay.
One of the sights of Prudhoe Bay. BP is the majority owner of the oilfield and it's a pretty well established town out on the edge of the world. Everyone is flown in to help get oil out from 9,000 ft below the ground and into the pipeline.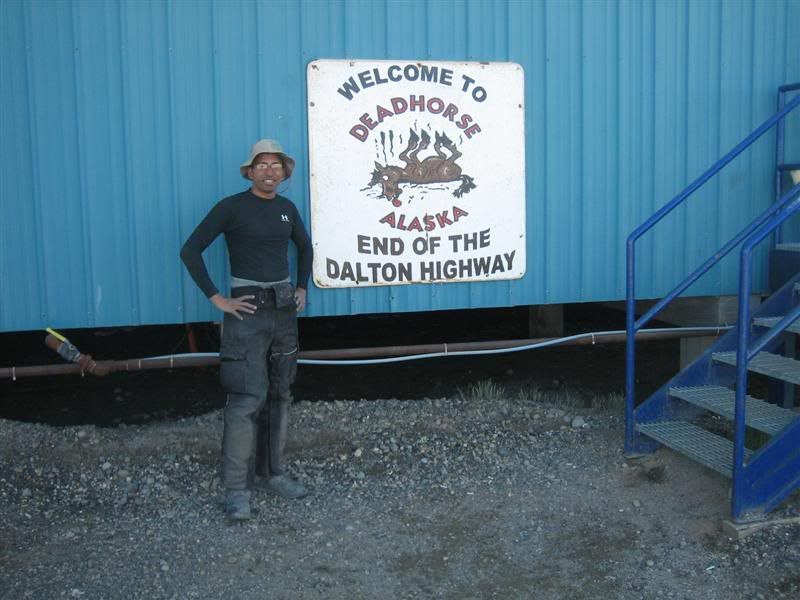 The must-do picture in Deadhorse (which is the town's name and Prudhoe Bay is the name of the general area, the oil field).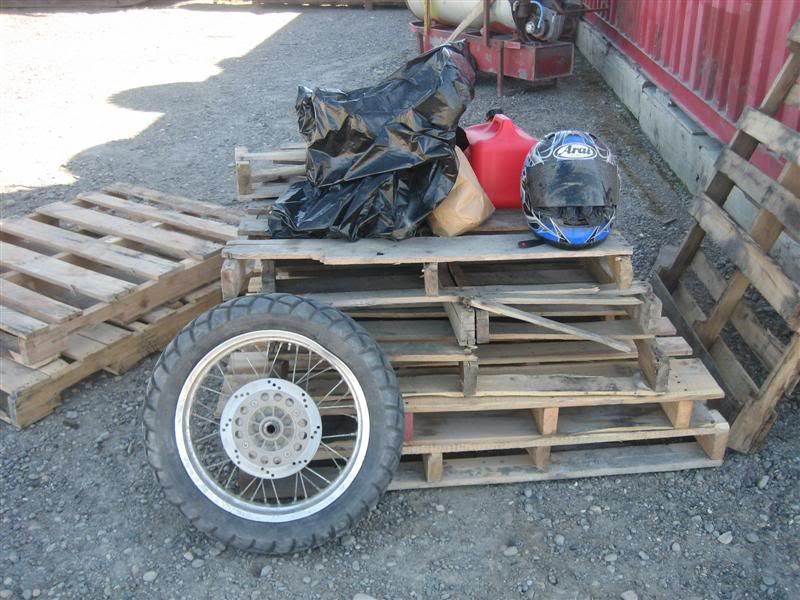 So, my bike didn't make it to Prudhoe Bay, but the rear wheel and I did, so that should count for something. I was standing with this at the start of the Dalton Highway trying to get a ride back down to my bike, but it wasn't possible. So I stayed the night and went down with Steve the next day.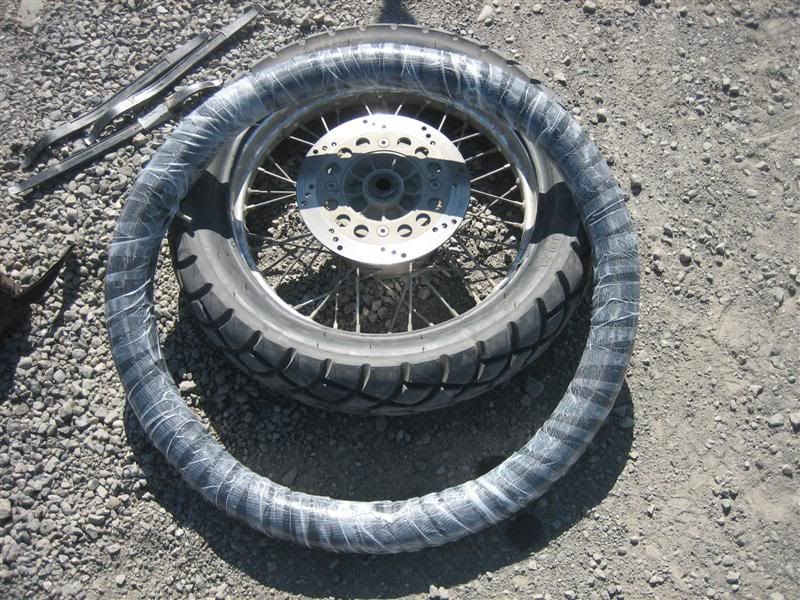 The patch only held for 10 miles before letting go. In desperation, I wrapped the whole tube in duct tape hoping it would reinforce it.
But that only held for about 7 miles. Luckily a group of riders came along and had a spare tube and helped me get the tire fixed. What a great bunch of guys. They said they'd stay and make sure I was properly on my way.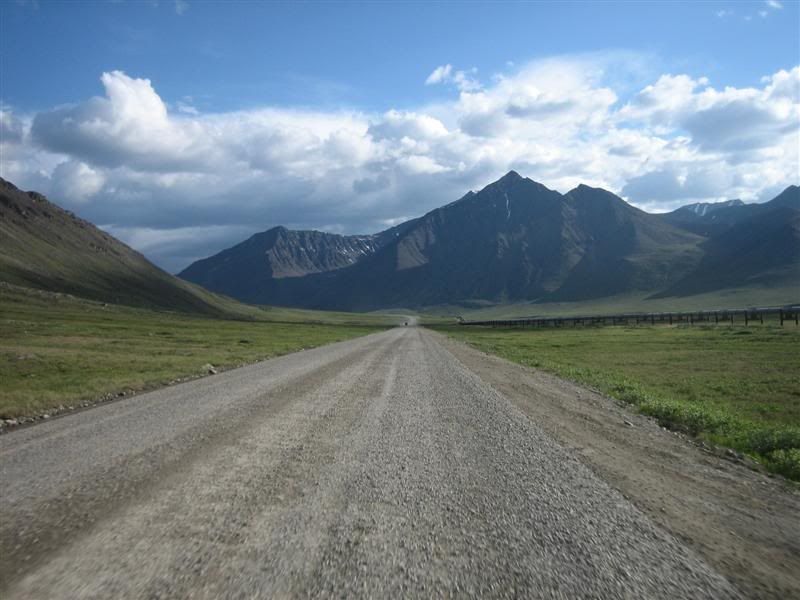 My spirits would not be dampened with all those tire issues cause look at this; what an awesome experience to be riding through this area. Heading towards Atigun Pass.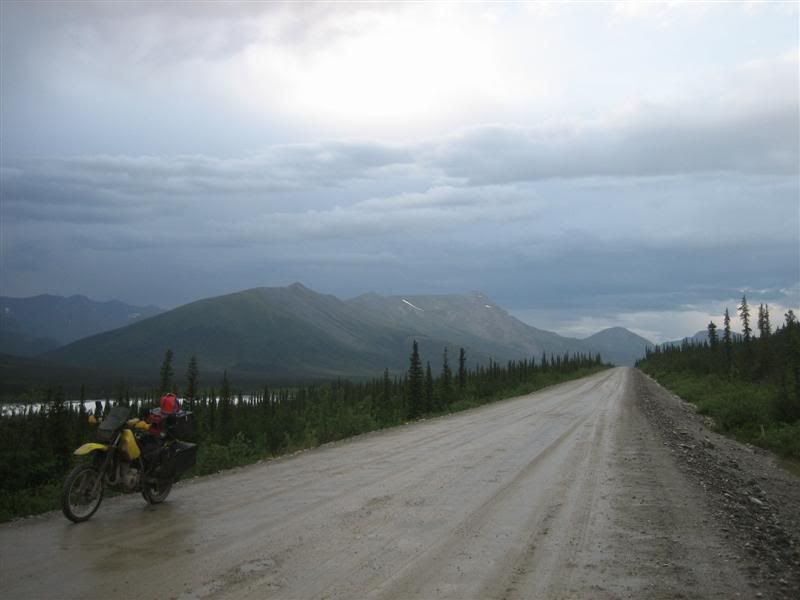 Doing an all-nighter on the Haul Road. This is about 2 in the morning, sightly raining, making the road a little slick, but not bad to ride with the kind of tires I had. I had to refuel here and I think enough rain got into the tank to mess with my fuel system.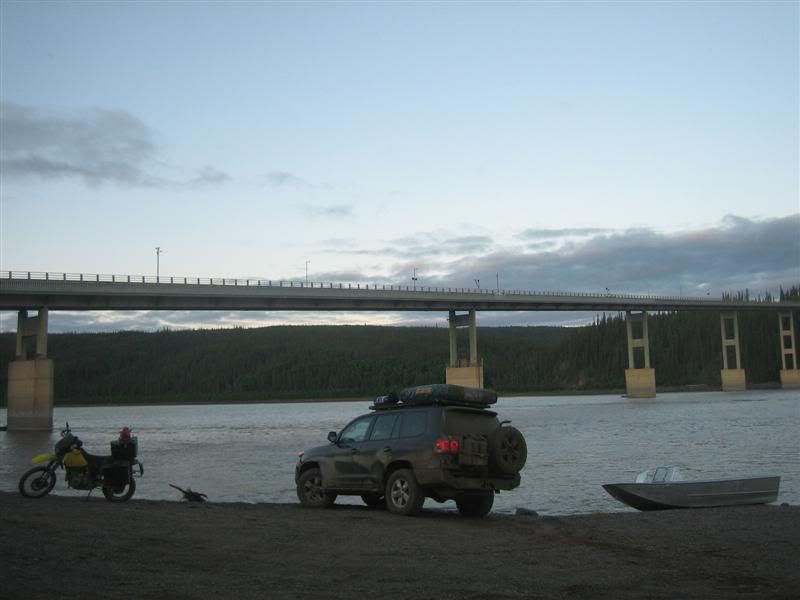 At the Yukon River Crossing at about 3 am.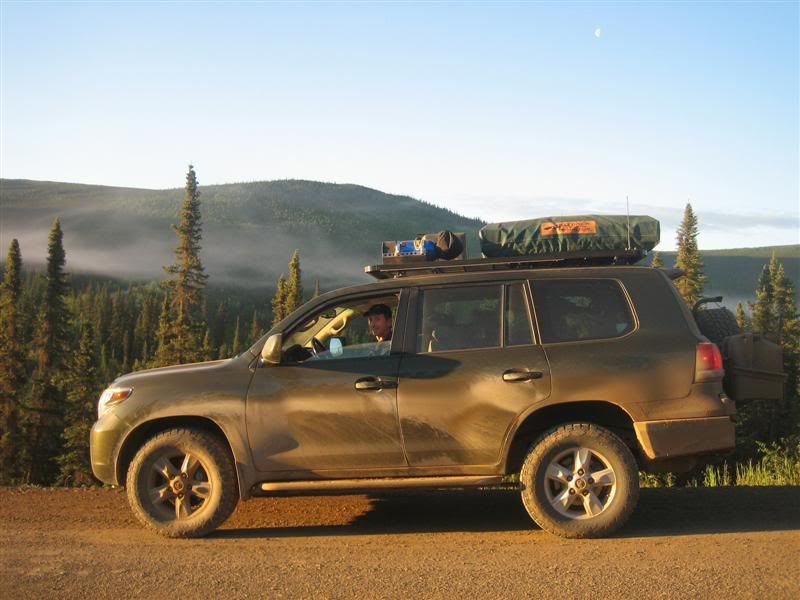 Steve in his Land Cruiser at about 5 am. The clouds behind Steve were forming in all the valleys as the temperature was about 45F/10C.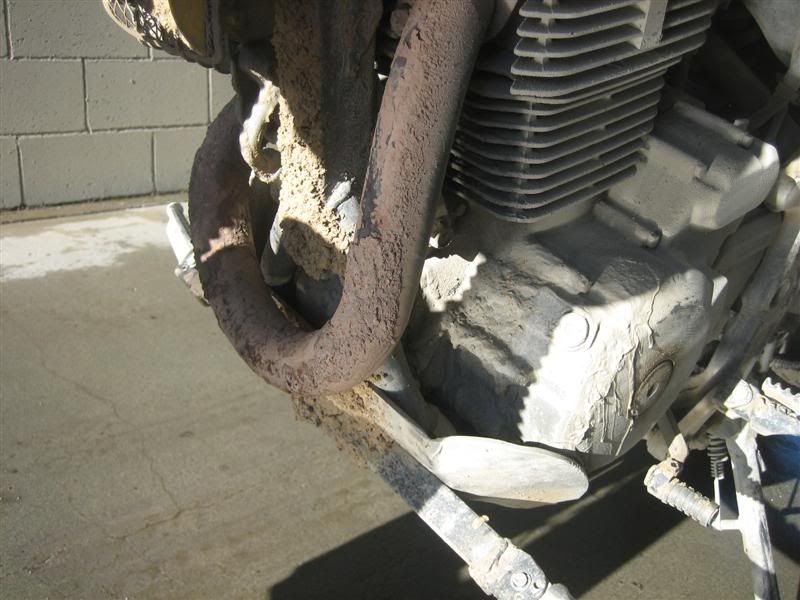 Washing off all the mud at a car wash in Fairbanks. We arrived around 8 am and bought some Calcium deposit cleaner to remove the Calcium Chloride that they spray on the Dalton Highway to prevent it from freezing. If it doesn't get washed off, it will harden up solid.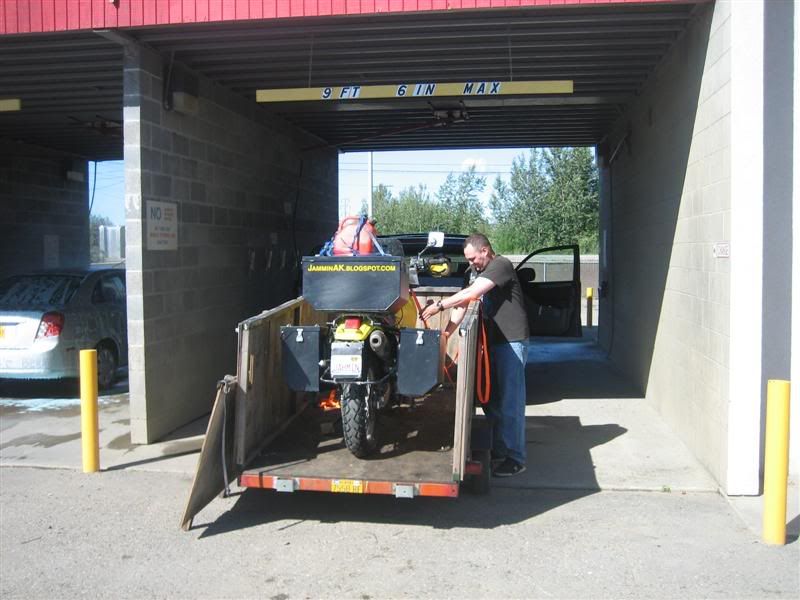 And poor auDRey was not feeling well. She wouldn't start due to fuel delivery issues. Luckily, Perry, a local rider here was washing his car and offered to help get me to the dealer. He was in the army and now works at the local gold mine. He's applying to get a Civil Engineering degree. What a great guy.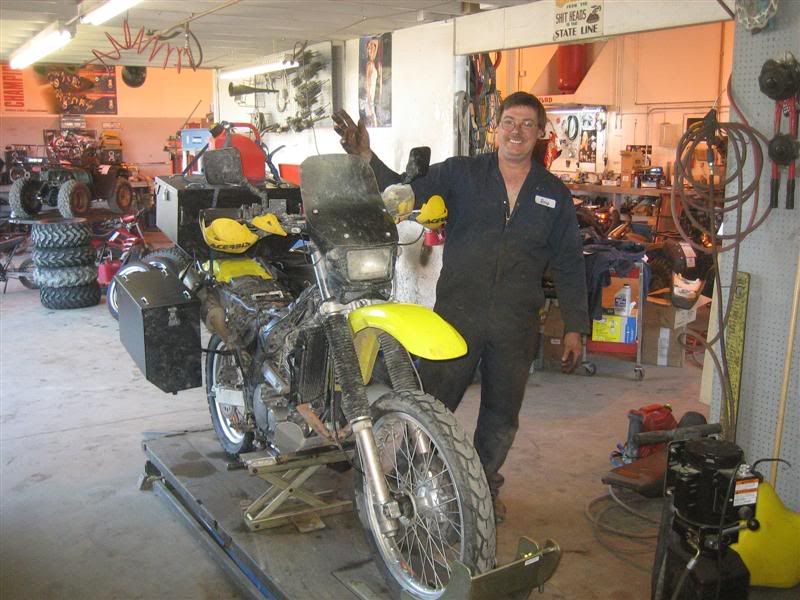 Doug at Northern Powersports in Fairbanks who did a great job on the bike cleaning out the carbs, the air filter, putting in new spark plugs and draining the bad gas. She's running great now.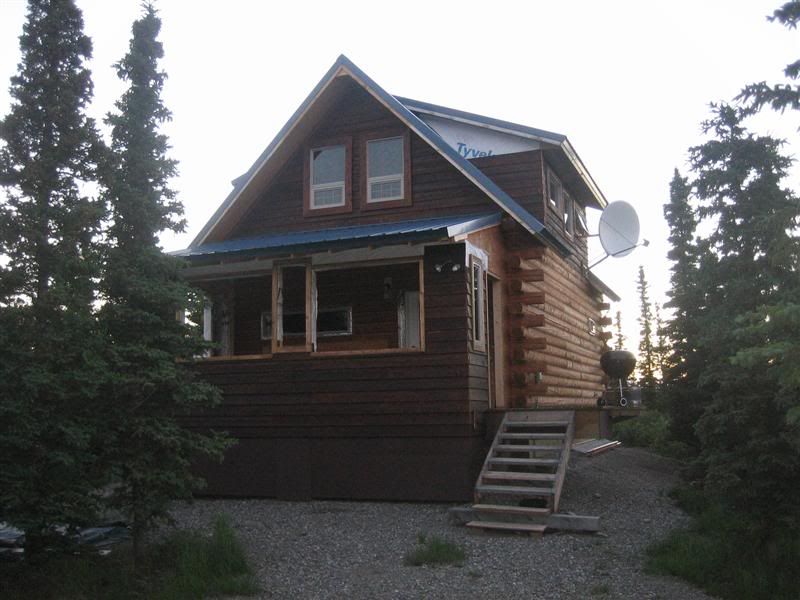 I stayed in Denali with Paul, a friend from ADVrider. This is his log house that he's building on some great land.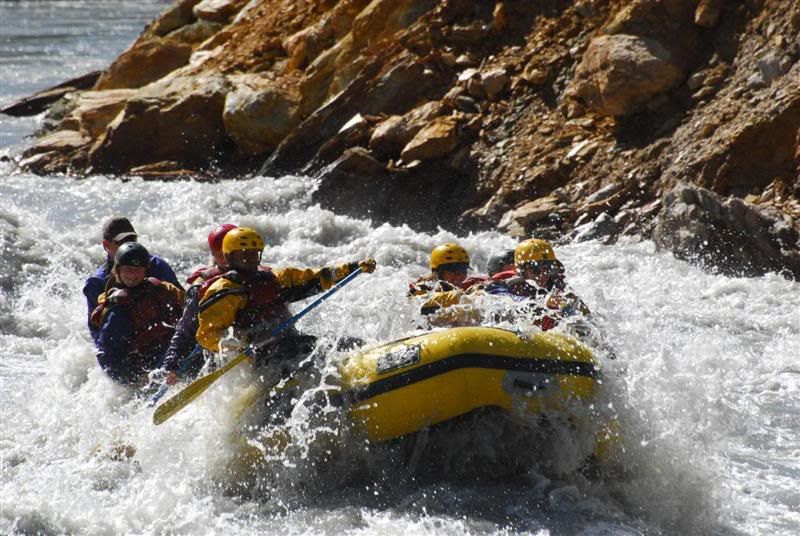 And Paul hooked me up with some free whitewater rafting, since he's buddies with the rafting company. What a blast. It was about a 2 hour river ride with Class I to Class III rapids. The guide, Phil was awesome and the others on the boat were a nice family from Colorado. I'm up front on the right side. Credit to Paul who took these awesome pictures. He runs the photo shop and does rafting pictures.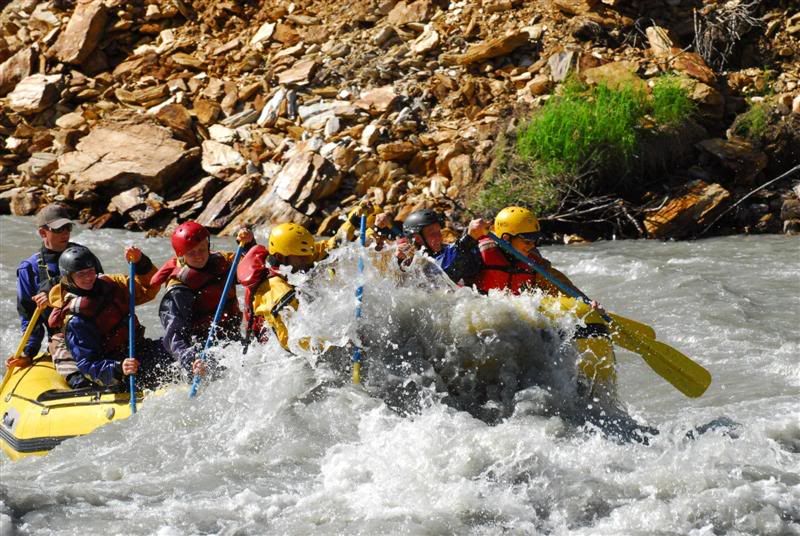 Oh yeah, just about to get a Glacial Facial, as the guides call it. All this is glacial melt from the glaciers in Denali National Park and the water is full of minerals, which they say is great for the skin. It also tastes good. I got quite a few mouth-fulls.
I'm loving Alaska!!